Special applications and hoses where no tooling is available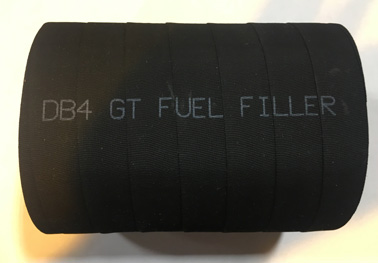 Some of the hoses made for the Saab Club of Sweden (above left). Even in Sweden, home of Saab, enthusiasts could not source hoses for their cars. It was RoMo who came to the rescue and made hose tooling for them.
Fuel filler hose for Aston Martin DB4 GT (above right) manufactured in petrol proof material and supplied to an Aston Martin parts specialist.
We have also made tools for certain Ford Cortina Mk1 hoses to help the owners club keep their members cars 'on the road'.
If your car is in desperate need of hoses, then we might be able to help. We cannot make one-offs but if a small group of like-minded owners get together, in the absence of their club taking the lead, we can help you too. All we ask is a good sample hose or an accurate dimensioned drawing and that you will purchase 25 hoses from the tool we make. This tool remains in our works but we guarantee NOT to make hoses available to other customers, without your permission.
Contact us at : enquiries@romohoses.co.uk
Other special tooling has also been made for the Hillman Imp, Triumph Dolomite Sprint, Lotus Cortina, Jowett Jupiter & Javelin and Ford Cortina 1600E